If you have an account, sign in with your email and password.
Shop on PokemonCenter.com, and place items you wish to purchase into your shopping cart. When you are ready to complete your purchase, open the Shopping Cart using the Cart icon in the upper right. Please note: codes are not valid for preorders.

To Apply a Promo Code
For UK customers: Enter the code in the text box that appears below the products on the Shopping Cart page, which can be found by selecting My Basket from the top right of the site.
For US/CA customers: On the Shopping Cart page, click the words "Enjoy Pokémon!" below the product list in your cart. (Note: "Enjoy Pokémon!" may appear as plain text instead of a hyperlink. This is normal.)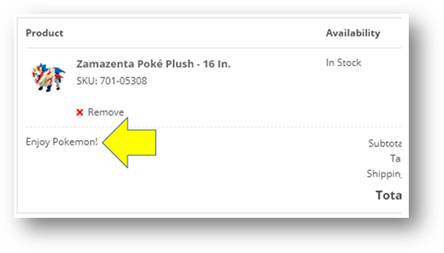 Clicking Enjoy Pokémon! opens a text box. Enter your promo code, then click Apply.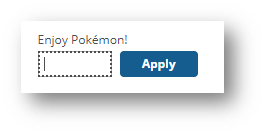 The code should now appear below the words "Enjoy Pokémon!"
Continue as normal to complete your order.
Code Redemption FAQ
Where can I obtain a promo code?

Pokémon Center codes are unique, and one time use only. We do not make codes available on third-party websites.



Can I enter a promo code and then complete my purchase later?

Yes, but we recommend you use the same browser on the same device that you used to enter the promo code. You cannot use the same code on two different browsers or devices.



Do I have to create an account or be logged in to use a promo code?

No, but we recommend you create an account or sign in before completing your purchase. This ensures you will be able to check on the status of your PokemonCenter.com order.